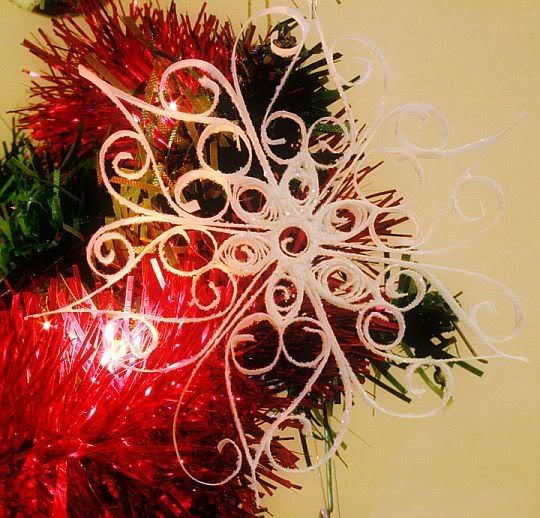 Today, for me, was a day of ordinary miracles. We expected Christmas to be tough this year, as there were no gifts to be given and none of us were finding it easy to get into the Christmas spirit.
Last night, Tatiana gave Jorge and I the most beautiful snowflakes she quilled. I know the amount of love that went into those flakes. Attached was a note, "Happy white Christmas." Every year, we try to add to our Christmas ornaments with something special and meaningful. I had bought two stone ornaments, with amazonite, rose quartz and agate, but they're simply pretty. They don't have a story attached to them. Those two snow flakes are now my most treasured Christmas ornaments. Oh you should see them sparkle! Tat also gave us each a birth stone. She had done a lot of research into each stone. The stones and snowflakes came in an origami box and with it was an origami lilly and one of her paper cranes.
Jorge got Tat and I each some chocolates. He was so proud of himself for bringing the chocolates into the house without us noticing. What I had planned to give was unfortunately not ready, but I'll leave comment on that for a later date.
We had a beautiful day! It was overcast and pretty hot. We had occasional rain with a minor thunder storm late afternoon. We were all in and around the kitchen during the meal preparation. We laughed, we played, I chased Jorge out at least a dozen times... we had fun! During lunch, we sat in the lounge alongside our little tree and spoke of what Christmas was like for Jorge as a child and for me. Jorge tormented us with threats to grow a real Prussian mustache (don't ask me 'why Prussian') and wax it. It drives Tat crazy when he messes up his eyebrows and mustache : )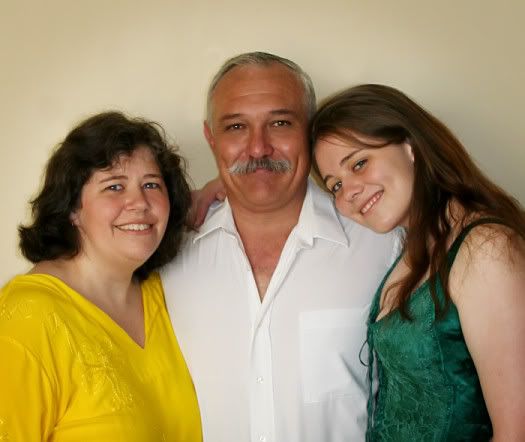 After lunch, we sleepily came back to our computers and played a little Runescape, chatting off and on and making phone calls to folk far away. Jorge spoke to his brother in South Africa, his cousins in Lithuania. Anne called while I was making lunch, so I called her back. I spoke to Fel in Alaska and Tat called Philly in California. Jorge spoke to the cousins in Florida. Bob was there too. In one way or another, we made contact with the people who are important to us and remembered those we could not contact. As I sit here, I am so grateful for the internet, which enabled us to speak to folk all over the world.
As I mentioned to Tat tonight.... it was an understated Christmas... no bells and whistles. We didn't even play any carols.... but I do believe it will stand out in our minds as one of the most memorable.... for its simplicity and contentment. I think we will pack the Christmas decor away earlier than usual this year. We are ready to move on. It is a good feeling.
"It seems so exceptional
That things just work out after all.
It's just another ordinary miracle today."


Ordinary Miracle Lyrics