See what happens when you complain? We have gone from hot and dry to cold and wet. Overnight, the temperatures dropped and it is now cold with constant rain. Make that cold by Brazilian standards, with temperatures averaging 18°C (64°F).
In honour of this auspicious event (unaccustomed rain), I present you with one of Tat's favourite treats, Bolinha de chuva. Actually, it was a friend of hers that introduced us to this local confection. 'Bolinha de chuva' translates to 'little rain cake'. Every time this friend would visit, she would haul out the pot and the flour and make bolinha for us. She loved cooking at our place, as she wasn't allowed to at home. Herewith, my translation of a Bolinha de chuva recipe...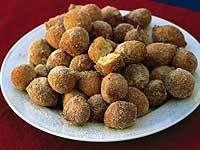 Bolinha de chuva (I added the Brazilian version of the recipe just as a curiosity)
Temperature: Hot
Difficulty: Easy
Preparation time: 10 minutes
Makes about 70 balls
Ingredients:
1 pinch of salt
about 1/2 cup of milk
4 tablespoons sugar
2 cups flour
1 level tablespoon of baking powder
2 eggs, lightly beaten
1 tablespoon cinnamon
oil for deep frying
3 cups of sugar for making the cinnamon sugar for sprinkling
Method:
In a bowl, mix flour, eggs, baking powder, sugar and salt. Add milk little by little with a mixer until you have a smooth batter. The mixture is ready when it starts to keep the shape of the balls. Heat sufficient oil in a frying pan to deep fry the balls. When the oil is hot, put small balls into the oil with a spoon. Fry the balls until golden brown and crisp. Remove with a straining spoon and place on paper towels to drain off oil. Toss balls in cinnamon sugar and they're ready to serve/eat/whichever-comes-first ;)
Portuguese version:

Temperatura: Quente
Dificuldade: Fácil
Tempo de preparo: 10 min
Rendimento: 70 unidades
Ingredientes
:
1 pitada de sal
cerca de 1/2 xícara (chá) de leite
4 colheres (sopa) de açúcar
2 xícaras (chá) de farinha de trigo
2 ovos ligeiramente batidos
1 colher (sobremesa) rasa de fermento em pó
1 colher (sobremesa) de canela em pó
óleo para fritura
3 xícaras (chá) de açúcar (para misturar com a canela em pó)
Modo de Preparo
:
Coloque numa tigela a farinha, os ovos, o fermento, o açúcar e o sal. Aos poucos, adicione o leite e misture com um batedor até obter uma massa homogênea. A massa estará no ponto quando começar a formar bolhas. Em uma frigideira, coloque bastante óleo e leve ao fogo. Quando estiver bem quente, coloque pequenas porções de massa, com o auxílio de uma colher. Frite os bolinhos, deixando-os dourar bem. Retire e coloque sobre papel toalha para absorver o excesso de óleo. Em seguida, passe os bolinhos no açúcar e na canela e sirva.
Footnote: I am about to totally lose it with Blogger.com. I have to reset my password every day and I know it's not me. Its the same one I have used ever since starting with Blogger. I simply reset it to what it was and it works. Enough already :(